Fireplaces are an essential feature in any mountain home, especially in a custom vacation home in Summit County, Colorado. There are many types and styles of fireplaces, ranging in style, fuel type, and efficiencies. We previously identified the main categories: wood burning fireplaces, gas log sets, B-vent or natural vent gas fireplaces, and direct vent gas fireplaces, and went into detail about gas fireplace products. Now, we will take a closer look at wood burning fireplace products and options in the Summit County Jurisdiction.
Wood burning fireplaces are appealing in many ways. Wood fires give you the sense of being in nature, these fires help make you feel even more connected to the outdoors. They crackle and pop. They smell of fresh cut wood and of a burning fire. Wood burning fireplaces use a renewable energy source. The idea of a real, authentic fire is appealing to many custom home owners.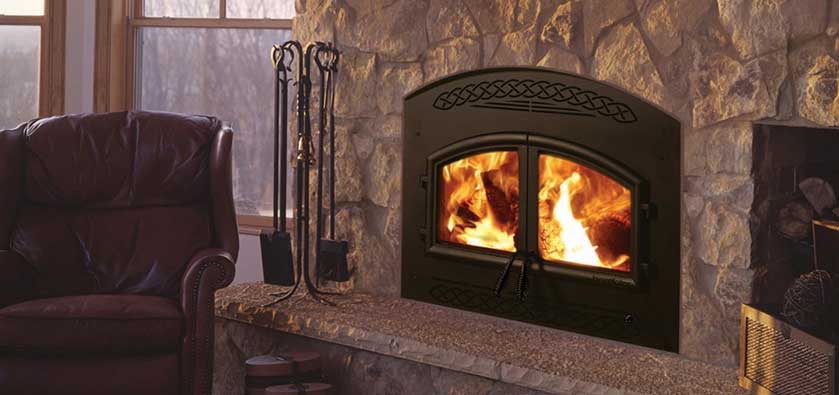 There are a couple of different types of wood burning fireplace products. Contrary to popular belief, wood burning fireplaces are almost always a manufactured product. They are no longer a stone built masonry box with a stone chimney. These are a way of the past for many reasons. True masonry built fireplaces are very, very expensive and are almost impossible to pass current building codes. They are highly inefficient and emit a tremendous amount of pollutants. These are just the main reasons that trends have moved away from this type of product.
There are two types of manufactured wood burning fireplace products. First are EPA Certified wood burning fireplaces, second are the more common rectangular wood burning boxes. Only EPA Certified products are allowed to burn wood in Summit County. If you want to burn wood within the jurisdiction, this is the type of product that is required. Please note that this is a simplification of the codes, for more detailed information about fireplace codes call to discuss or check with the local jurisdiction.
EPA Phase II Certified Wood Burning fireplaces are highly efficient, heater or furnace rated products. These fireplaces are technical and specifically engineered to meet efficiency standards and EPA clean burn regulations. They are basically constructed like wood burning stoves with clean burn chambers and a glass door that is designed to stay closed while the fire is burning. This system will burn with particulates lower than 4.5 grams per hour. Similar to emissions requirements on vehicles, this standard ensures that your wood fire is causing the least amount of air pollution that is reasonable.
EPA Wood Burning fireplaces are zero-clearance fireplaces. This means that they can be installed into wood framing (there are actually clearances, the name zero-clearance is not technically accurate!) vs installed into some sort of metal or non-combustible framing. The fireplace must be installed with the Class A Chimney System that is specified by the manufacturer of the fireplace. These components are tested as system and are not interchangeable. In Summit County, the chimney and fireplace enclosures are drywalled on the inside. This added step provides additional insulation and safety. It is not a common step elsewhere in the country.
Wood burning fireplaces require a chimney that vents up, and the straighter the better. The fireplace is the heart of the home and you will be much happier with the performance of the product if your home design allows the chimney to be positioned as close to the center of the home as possible. Another consideration is the level of the home. Wood burning fireplaces will draft more effectively if positioned on the main level. Lower level locations are prone to back-draft and other problems associated with low pressure zones. For more information about EPA certified products and about wood buring practices, talk a look at this fact sheet from the HPBA, Hearth Patio & BBQ Association. HPBA Wood Burning Product Fact Sheet
There are many EPA Phase II Wood burning products on the market. For a large presentation, take a look at the FireplaceXtrordinair Elite: FireplaceXtrordinaire Wood Product Brochure

Be sure to talk with Jeremy Fischer of Ivan Stanley Custom Home Builders for more information and to be sure this is the right type of fireplace for you.