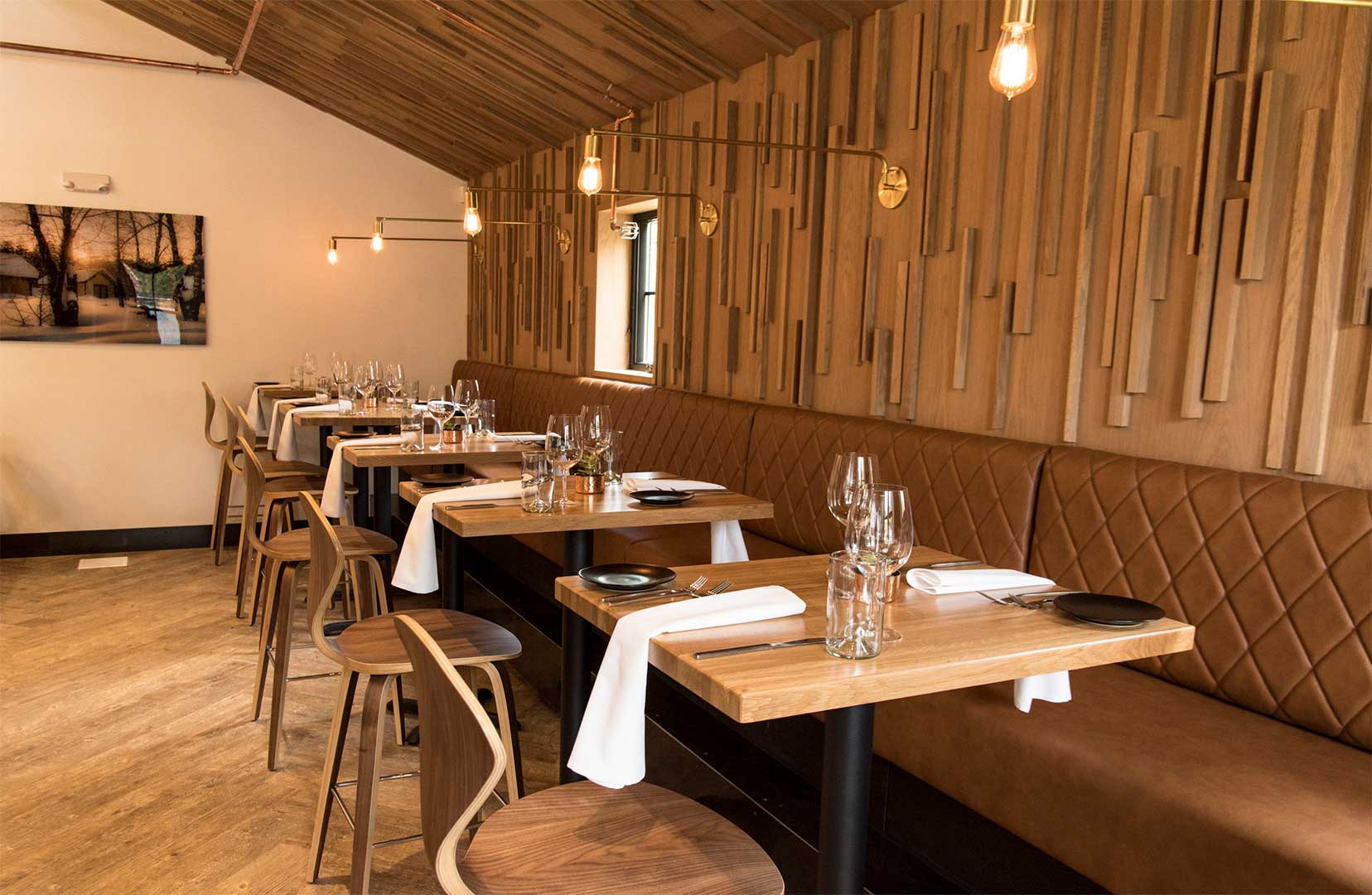 The Aurum Food & Wine concept is part of the Destination Hospitality restaurant group, a small passionate team devoted to creating unique dining experiences in Colorado. With thriving locations in Steamboat, Aurum Steamboat and Table 79 FoodBar Steamboat, owner Phillips Armstrong and Destination Hospitality certainly know how to operate a mountain-modern neighborhood restaurant. They we thrilled when the opportunity arrived to open up shop in Breckenridge.

As with homes, finding the perfect location for a restaurant is one of many factors for success. Ivan Stanley struck Rocky Mountain gold when selecting the location for Aurum. The Victorian Style property is within walking distance of Old Masonic Hall, the Arts District, Barny Ford Museum, and the Backstage Theatre. The ideal location, coupled with the approachable exterior and outdoor patio had everyone immediately taken with the property.
Designed by J.L. Sutterley Architect, this Victorian style historic design is fitting to the Breckenridge Historic District while tastefully integrating contemporary elements. Staying true to mountain-modern, we added natural wood elements with white walls and tables for subtle contrast. Exposed copper piping and wall installations match the unique copper detail on the exterior of the Victorian building. It was important that Aurum felt like a home. To achieve this, we made the bar area intimate, yet roomy with a large farm table behind the bar for easy socializing. The open window behind the bar is reminiscent of a residential kitchen. Shades of dark and light wood elements fill the open space in the dining area with details of copper throughout. Our experience with construction in the Historic District including incorporating historic design concepts made this project a perfect fit for Jeremy Fischer and Ivan Stanley Fine Home Builders.
A brag-worthy feature is the artwork within Aurum. Working closely with Phillips, our in-house designer, Karen Fischer carefully selected artwork from the Sandra Mather Archives, a collection of Summit County's historic photographs. Works by Carl Scofield and the Rockne Family Collection were added to round out the restaurant's modern, yet historical Breckenridge ties.
We were able to take a minimalist mountain approach to the overall design. Taking advantage of the abundance of natural light and allowing the vaulted ceilings in this classic Victorian building to speak for its self. Allowing the space to feel natural, intimate and not over-done. Paralleling with Aurums concept of neighborhood fine dining.
Aurum is open seven days a week for dinner from 5pm-close, and a Happy Hour menu offered 4-6pm. Menu changes seasonally with locally sourced items.
We'd love to see you at the table at Aurum, your new neighborhood restaurant.